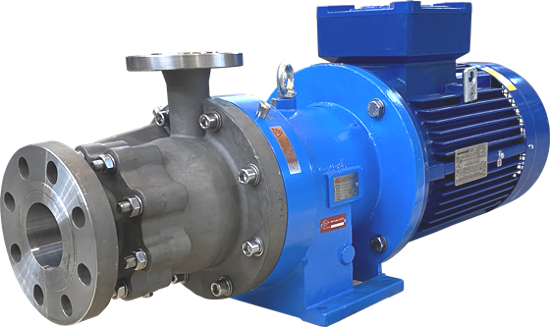 CL MAG-M pumps range meets the requirements on custom-built solutions in the process industry, in the following areas: Chemical and pharmaceutical, transfer of aggressive, highly corrosive liquids, paper, food processing, plant
engineering and construction. For all industries that choose a pumping leak-free and low maintenance for use continuous (abandon of mechanical seal pumps).
Pumps of the series CT MAG-M are horizontal single-stage peripheral regenerative pumps with centrifugal low NPSHr inducer.
It is a modular configuration of either bare shaft end or close-coupled design. Close coupled pumps are furnished with standard motors. Leak-free back pull-out assemblies with magnetic drive meet the requirements with regard to job safety, operational reliability and environmental protection.
Magnetic drive rear casing standard materials are Hastelloy, other materials, metallic or not, available on request.
The program comprises 12 sizes, with a high interchangeability between the components that allows stock reduction.
Magnetic drive rear casing standard materials are Hastelloy